DON'T MISS TRAPPE DOOR BELGIAN BEER DINNER FEAST AS PART OF UPSTATE INTERNATIONAL 2016!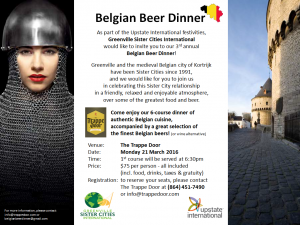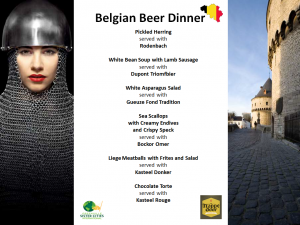 DELEGATION TRIP TO KORTRIJK, BELGIUM TENTATIVELY PLANNED FOR JUNE 2016
Greenville Sister Cities International is planning a trip to Kortrijk, Belgium, one of our "sister cities" in June 2016. Part of a "smart cities initiative", the trip will investigate technology merging with modern industrial design techniques that allow today's cities optimal functionality, and will also highlight entrepreneurship in high growth industries to sustain and grow business internationally for mutual economic and social benefits. Interested businesses and/or individuals associated with Belgium are invited to take part in the Delegation trip. For more information about Greenville's relationship with Kortrijk visit https://greenvillesistercities.org or to request more information about the trip, email stijn.vandevelde@gmail.com.
YOUTH DIPLOMAT OPPORTUNITY – JUNE 2016-MAY 2017
Greenville Sister Cities International is known for their commitment to Youth Diplomacy. GSCI is currently accepting applications for one local high school student to become a Youth Diplomat. An application packet is available on our website or can be requested in an email addressed to Dianne Clarke-Kudless, dc-k@att.net. The deadline for completed applications is April 15 after which the GSCI selection committee will review application materials and meet with candidates. Candidates will be announced by May 15. The finalist will be presented to the City of Greenville and awarded a $500 scholarship that can be applied to attendance of the 2016 Sister Cities International convention in DC in July or the GSCI delegation visit to Kortrijk Belgium in June 2016. Finalists will also be invited to address the GSCI Annual meeting in January 2017 and to respond to requests to speak with local organizations on behalf of this program. GSCI Youth Diplomat term extends from June 1 2016- May 2017.
2016 Diplomacy revised package
What is a Youth Diplomat?
A Youth Diplomat is a community member who demonstrates civic knowledge,
exhibits openness, clarity of thought, empathy, respect and equality
regarding community members and visitors. The Youth Diplomat cultivates a
foundation of skills that empower them to engage in dialogues throughout
their community that build bridges to becoming change agents in their
understanding of Greenville and our connection to the world.